Our Mission
To offer the unique opportunity of experiencing SCUBA Diving to our wounded American veterans.
View our Annual Report – click here
ABOUT WAVES PROJECT
Wounded American Veterans Experience SCUBA
WAVES PROJECT was established to help our wounded veterans experience the freedom and challenge of SCUBA Diving. If you or a loved one has suffered from a major, life-changing injury, scuba diving therapy may help. Importantly, talk with your doctor and therapists about your interest to see if this type of therapy is right
for you.
The unique properties of this aquatic environment enhances interventions that are ideal for combat wounded veterans as they rehabilitate from various injuries received in combat such as amputations, spinal cord injuries, PTSD, Traumatic Brain Injuries, along with a host of other injuries received in battle. Scuba diving takes the advantages of the properties of water, including weightless and limited audio input, allowing Combat wounded veteran's to exercise in a therapeutic environment. Underwater, there is the soothing sound of breathing through your regulators as your bubbles float effortlessly to the surface. Movements are slower, gravity is sapped of it strength and muscles move more freely. The disabled diver underwater is now an equal to his or her able body dive buddy!
Our training includes specialized SCUBA equipment suited to the person based on their physical needs. These items may include webbed gloves, diver propulsion vehicles and customized exposure protection.
Our WAVES Instructors have extensive, specialized training from both PADI (Professional Association of Diving Instructors) and HSA (Handicapped Scuba Association) to insure safe and suitable instruction.
Our WAVES Gear shop allows veterans to purchase SCUBA gear at reduced prices. In addition the general public may purchase items with all profits from the sale of any SCUBA gear or apparel going directly to support our programs for wounded veterans.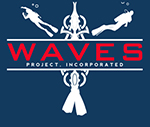 Help A Wounded Veteran Reach The Water