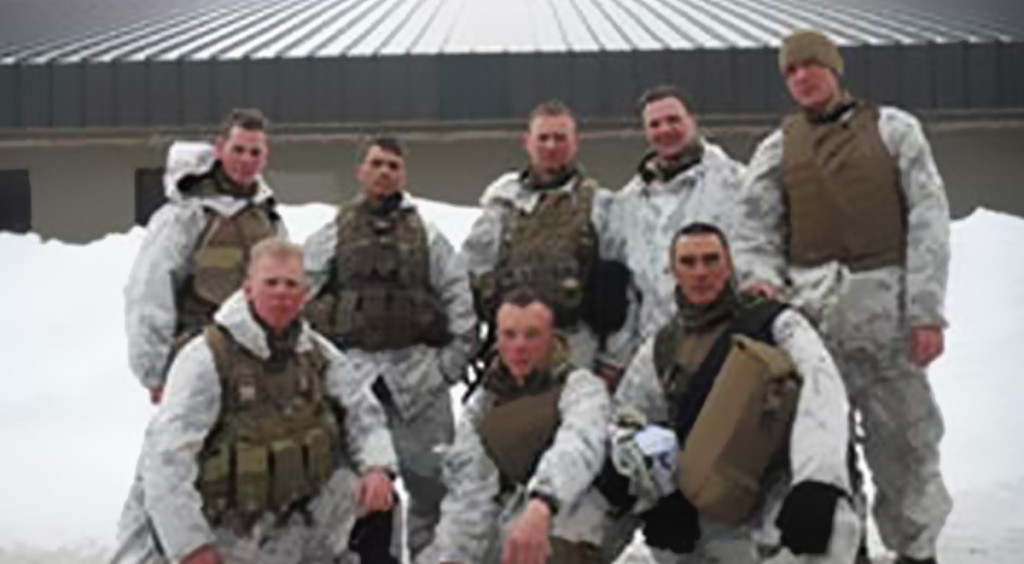 When Brenton was first introduced to our group he made quite a first impression, he is a guy that is about the size of a small mountain. He sports a bandana, multiple tattoos, and a resting countenance that is to some; off setting. Over the several days of classes, pool dives, and ocean dives we were able to move past the exterior and get to know the man. He is one of the nicest guys you would ever want to be around; gregarious, outgoing, intense when needed; overall a joy to know.
In his mid-20's, he is married to a lovely young lady, with 2 of the most well behaved young children we've ever met. He grew up in Calpine, CA, a small town in the Northern Sierras above Truckee. In April 2009 Brenton entered the US Marines from Reno CA. When asked why he chose military service, it becomes apparent that a series of life choices left him with little positive to look forward to; his best option was to enlist.
He attended basic training at MCRD San Diego, and then to SOI (School of Infantry) at Camp Pendleton CA. Upon graduation from SOI two life changing events occurred, he married his childhood sweetheart and he was assigned to the Darkhorse Battalion, 3rd Marine Battalion of the 5th Marine Division. It was while assigned to the 3/5 that he met and became friends with Nico Detour (another WAVES Project participant and his dive buddy).
Brenton deployed to Afghanistan with the 3/5 in support of Operation Enduring Freedom. As one of the squad's heavy weapons team, he carried the SAW (M249 Squad Automatic Weapon). Considered a "light machine gun", the SAW weighs in at over 18 pounds with combat load, fires 800 5.56 caliber rounds per minute. Due to the weight of the weapon and the need to stabilize it for long range fire the SAW also includes a bi-pod.
During one incident when Brenton's squad came under fire he dropped into his firing position, placed the SAW on the ground and then slid it where he needed it. It was then that he realized the footplate of the bi-pod had slid over the top of an IED and was sitting between the pressure plate firing mechanism and the body of the IED. The insurgents didn't always place IED's where our soldier were expected to walk. They also placed them where our young men were expected to take cover when under attack. Brenton says, "If I had placed the bi-pod one more inch forward the IED would have exploded in my face a foot away".
To call this young man lucky would be an understatement. Many marines and soldiers of all types carry a talisman of some kind into combat. A touchstone, lucky rabbits foot, pictures of their family; everyone needs something. In Brenton's case he carried the ashes of his father and those of one of his best friends.
The insurgents not only placed IEDs in unexpected places they also got creative with the materials they used to make them. Often using carbon fiber rods extracted from used batteries. The point of using the carbon fiber was to create and IED that had a very low metallic signature, making them all but impossible for the combat engineer's metal detectors to find them. On this patrol, the combat engineer's equipment didn't locate and IED and he stepped right over the top of one. The marine in the 2 position wasn't as fortunate and set off the IED, Brenton was 3rd in line about 12' behind.
The combat engineer took multiple fragments of shrapnel in the legs, arms and torso. Brenton was dropped to his knees by the blast and could feel the shrapnel striking his flak vest and gear. Momentarily stunned by the blast, Brenton was helped to his feet and went to aid the combat engineer while others attended to the other marine. His combat first aid training kicked in and he was able to triage the engineer and apply first aid as needed. He was also able to let the dust off choppers know what to expect, so they would show up with the proper medical supplies. The marine who took the brunt of the blast? Despite horrendous wounds he also survived.
Brenton has also been able to use his combat first aid training since leaving the military when he witnessed a serious automobile crash. He was able to calm the situation, apply first aid, and await paramedics.
After exiting the military he and Nico worked together for a short time. Currently he's attending "The FAB School" in Riverside CA, nights and spends his days taking care of his son and daughter while his wife is in school during the day.
When asked about SCUBA and what got his interest, he says "'Dom' [Juan Dominguez] posted something about WAVES on his Facebook page. I read it and contacted Steve Rubin about the program. After several conversations and understanding how the program worked I asked my wife about SCUBA." He laughs, "She said no, before I had the words out of my mouth. So I called Nico to see if he was interested."
Brenton and Nico have completed the Open Water class and are currently in the Advanced Open Water training. Very seldom have we seen two people take to the water as quickly and as well as the pair of them. Brenton says, "I fell in love with diving. I never want to get out of the water." It is an honor for us to know Brenton. We are proud to be able to call him "friend" and are delighted he has chosen to continue diving with our group.
Article contributed by Steve Moss