THE WAVES PROJECT DIVE BUDDIES LOG 150TH DIVE TOGETHER!!
Kris Moorehead and Dave Fitzgerald's journey to 150 dives!!
On Veteran's Day November 11, 2023 while diving on the HMCS YUKON, The WAVES Project divers Kris Moorehead and Dave Fitzgerald completed 150 SCUBA dives as each other's dive buddies and demonstrating how camaraderie is one of the key components in our "Purpose", here at The WAVES Project.
This diving duo first met at a WAVES Project Club meeting in July 2018, and set up to dive shortly thereafter. Their first dive together was logged on August 24th, 2018 at La Jolla Cove, San Diego California. This was Kris' 104th dive and Dave's 18th dive. Dave remembers his first thoughts about Kris as being a very knowledgeable diver; being very meticulous with his dive gear, and thorough with his pre-dive safety and buddy checks. Kris remembers Dave as being very eager to learn and enthusiastic to explore the underwater world. From the very beginning, Dave and Kris meshed well together and knew they could become good SCUBA buddies.
Over the next 5+ years, Kris and Dave's diving adventures have taken them to several exciting locations and given them the opportunity to work on unique projects. They have dove together on the reefs of Roatan Honduras, learned how to drift dive in Cozumel, Mexico, explored cenotes on the Yucatan Peninsula, played with the sealions at Los Coronado Islands off Baja California, and investigated the kelp beds and shipwrecks of Southern California. They have worked together on the "Under The Waves" Loma Linda Occupational Therapy/SCUBA diving research project, the National Park Service Lake Mead Underwater Mapping Project in Nevada, and on the Buoy System Maintenance Project in Lake Superior at Isle Royale National Park in Michigan / Lake Superior.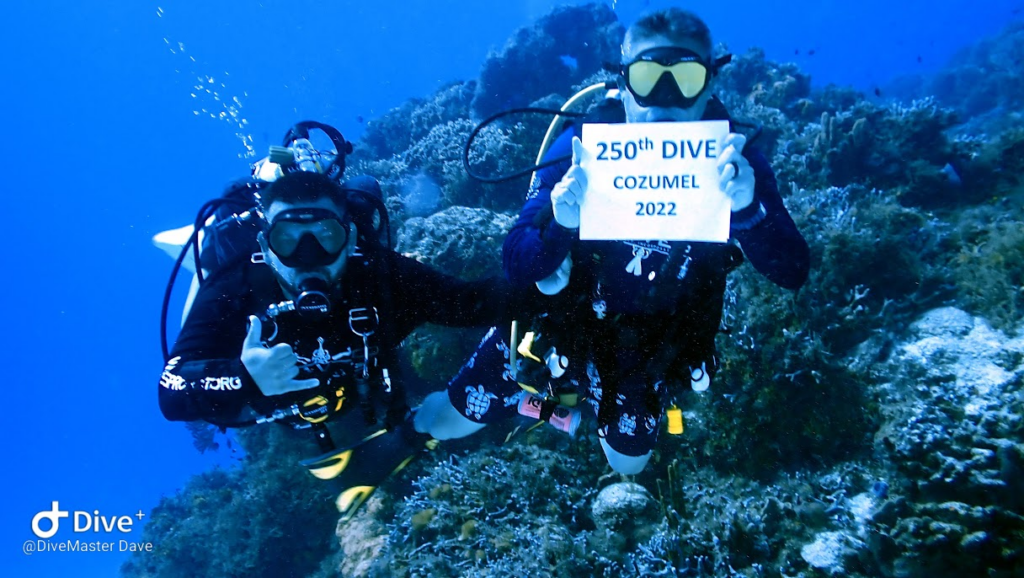 Dave and Kris have also shared many firsts and milestones together. They have shared their deepest and coldest temperature dives, their first drysuit dives, and learned how to Drift Dive together. Kris was there almost from the beginning of Dave's diving progression. He was there for Dave's longest dives at 101 minutes, 1st night dive, for Dave's 50th, 150th, 200th and 250th dives and almost half of Dave's total dives. Dave was there when Kris was certified as a Dive Master, and for Kris' 250th and 400th dive.
The familiarity, confidence and trust in each other that has formed has also helped them overcome some diving malfunctions. Kris experienced a malfunction in his regulator in Cozumel and Dave had a free-flow incident at 130 ft deep in Lake Superior. Both times these divers handled the situation calmly and correctly as they were trained.
Dave's favorite moments of diving with Kris are diving at Casino Point in Avalon Catalina and finding a group of 7 Giant Black Sea Bass, diving at Crystal cove and finding a 150+ year old 1000-pound historic anchor, and Diving in Cozumel and seeing Charlie the 100-year-old Loggerhead Sea Turtle. Kris favorite moments are when they found the Shelly of Shaw's statue and swimming the swim-through all the way through at Shaw's Cove, and feeding a Splendid Toadfish on a night dive in Cozumel.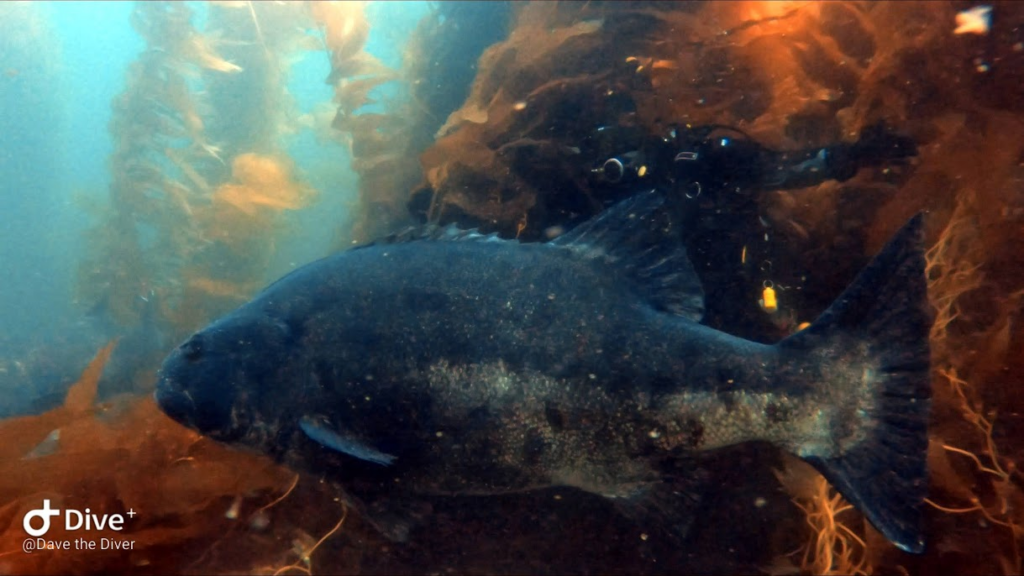 Their adventures are not only limited to SCUBA Diving, Kris and Dave have also gone hiking in our local national forests with their dogs, shooting at the gun range, donated blood, and they have even gone skydiving together. This diving duo, both look forward to continuing their underwater adventures by diving new locations and sharing their love for SCUBA with other divers. The friendship that has evolved between these two through the years shows how CAMARADERIE can develop and why it is one of the key components of our "PURPOSE" here at The WAVES Project.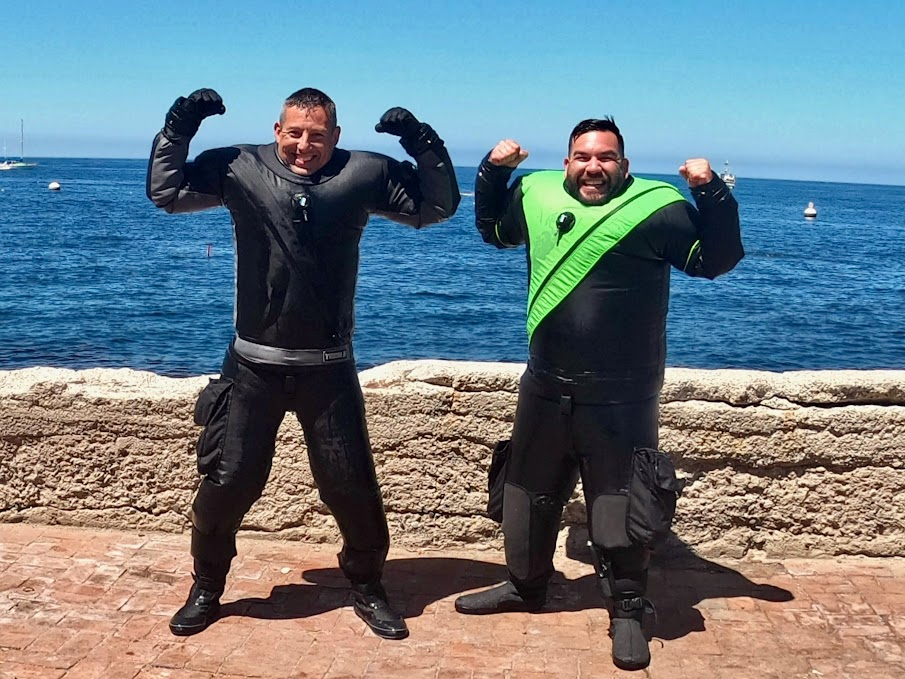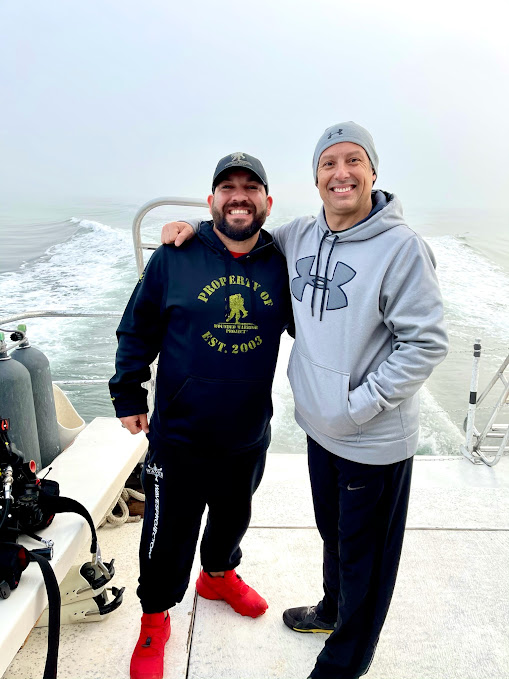 Written by and photos provided by Dave Fitzgerald, 12 Nov. 2023