Marina Inserra, a certified scuba diver from San Diego, was named Scuba Queen USA 2016.  She will represent the U.S. in the International pageant in Kota Kinabalu, Malaysia November 2016.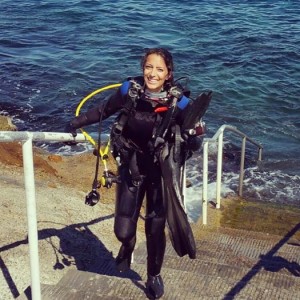 But this is not your typical "beauty pageant." Each contestant must be a certified scuba diver and have a passion to protect our planet. The Miss Scuba International pageant allows women to promote safe diving practices and advocate for marine conservation worldwide.
The pageant was founded by Robert Lo, owner of the Sipadan-Mabul Resort and Mabul Water Bungalows, in 2011 to bring attention to ocean conservation.  Lo hopes that "by sharing the beauty and wonders of the underwater world via beauty queens, it will enable more people to understand how fragile our oceans are and how much more we all need to play our individual little roles to make a big difference in protecting it," as mentioned on the Miss Scuba International website.
The young women will compete for awards such as Best Diver, Best Talent, and Most Photogenic, to name a few. The ultimate award coveted by contestants is that of Miss Scuba International, where she will get to travel the world representing female scuba divers, in an industry dominated by men, and educate and inspire others to safeguard our oceans.
Inserra, 24, is not new to the pageant world. In 2014, she competed at the Miss America pageant as Miss California. Her pageant experience with the Miss America Organization earned her over $20,000 in scholarship money that allowed her to graduate from San Diego State University. She works as a Zoological Educator at SeaWorld San Diego where she spends her time educating guests about ocean animals and ways to preserve the natural world.
Inserra is excited to combine some of her favorite activities, pageants, education and scuba diving, to bring light to issues such as coral reef bleaching and shark finning. Both detrimental issues that are affecting our oceans worldwide.
Inserra is a volunteer member of The WAVES Project; founder Steve Rubin said of this achievement "We are very proud of Marina and look forward to doing a lot of diving with her to help her prepare for the competition in the beautiful Malaysian waters." As a PADI Instructor, Rubin has conducted advanced SCUBA  training with Inserra, he says she is "a natural diver, completely at ease under water".
To follow Marina on her journey as Scuba Queen USA, or to learn about how you can enter the competition, "like" Scuba Queen USA on Facebook (Facebook.com/ScubaQueenUSA) or follow @ScubaQueenUSA on Instagram.