Michael Atkins joined the US Coast Guard in 1992 out of a desire to serve our country. He says he chose the Coast Guard because of their mission.  Every day the Coast Guard saves 10 lives, assists 192 people in distress, protects $2.8 million in property, interdicts 14 illegal migrants at sea, conducts 109 search and rescue cases, seizes $9.6 million worth of illegal drugs and responds to 20 oil and hazardous chemical spills. They also were more accommodating in giving you the ability to choose your job.
His first choice was air traffic control but the Coast Guard did away with this rate so he went with his second choice of aviation mechanic. His first duty station was Hawaii working on a small patrol boat out of Honolulu. They patrolled the waters from Hawaii to Midway Island to Guam. Their main duties were search and rescue and law enforcement.
With a rank of Seaman, he went to EMT school and Coxswain school. After transferring to San Diego he began working as an aviation mechanic. Mike says "the Coast Guard rule was that if you fly on it, you work on it", which he did. He also says he always "did what the Coast Guard asked of him which included a lot of jobs nobody else wanted including working 8 years at night."
After serving 20 years and 2 months he was medically retired. Injuries he suffered while serving include a broken back and total loss of cartilage in both knees from kneeling while operating the hoist. He injured both shoulders when a door came off in flight leaving Mike to hold it with one arm for 6 hours while assisting with CPR. He has other major issues due to jumping out of the helicopters early in his career as well as a number of other injuries. Since 2009 he has had a total of 24 surgeries to repair the damage.
Michael feels that the US Coast Guard is the least understood branch of our military.  The Coast Guard performs 11 official missions including port and waterway security, drug interdiction, aids to navigation, search and rescue, living marine resources, marine safety, defense readiness, migrant interdiction, marine environmental protection, ice operations and law enforcement. Michael was awarded the Coast Guard Commandants Letter of Commendation Ribbon that is awarded for an unusual or outstanding act or service, Humanitarian Service Medal, Global War on Terrorism Service Medal, Second Department of Transportation 9/11 Ribbon, Third National Defense Service Medal, Sixth Good Conduct Award and numerous others throughout his career.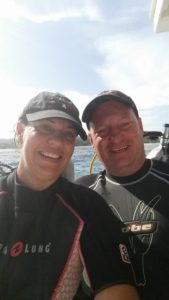 In 2014 Michael took up SCUBA diving with the WAVES Project and feels that he gets great relief from the pain of his injuries and PTS symptoms. He was excited to share these experiences with his wife Nicole. He has the desire to continue to serve his country and now volunteers with the WAVES Project to spread awareness of the service available to veterans and as an advocate. As his body heals he hopes to become more active in helping others find the great benefits SCUBA offers.
For his 50th birthday Michael created a fundraiser, his comment about the WAVES Project is "this organization has brought me back to the water after all my injuries and helped me realize how much better I feel in the water. This all took place when I was at one of my lowest times both mentally and physically but they took me and my family in, it was like our family just got bigger right away" and "they not only continue to be a part of my life but grow in number of lives saved every day, it reminds me of the coast guard mission."
From everyone at the WAVES Project we say to Michael –
Thank you for your service!
You can donate to the WAVES Project by clicking here.
Article contributed by Barbara Rubin