After 5 years, the WAVES Project has a home!
The warehouse – before we moved in

WAVES entry door

View of the warehouse

Product display area

Regulator Display Case

Masks, fins, snorkels

Our fill station and antique equipment display

Our Administrative offices
The WAVES staff moved into our new office and warehouse space and completed the store setup. We acquired an air compressor, which gives us the ability to fill our own air cylinders and removes our dependence on outside companies. Veteran participants can now purchase SCUBA gear at affordable prices and have better access to our instructional staff. Our goal is to make this space a good place for any of our participants to come, socialize and learn. We are open to the public also and proceeds from the sale of equipment goes back into the organization to support our programs. Veterans are being trained to operate the air compressor and help run the store on a volunteer basis.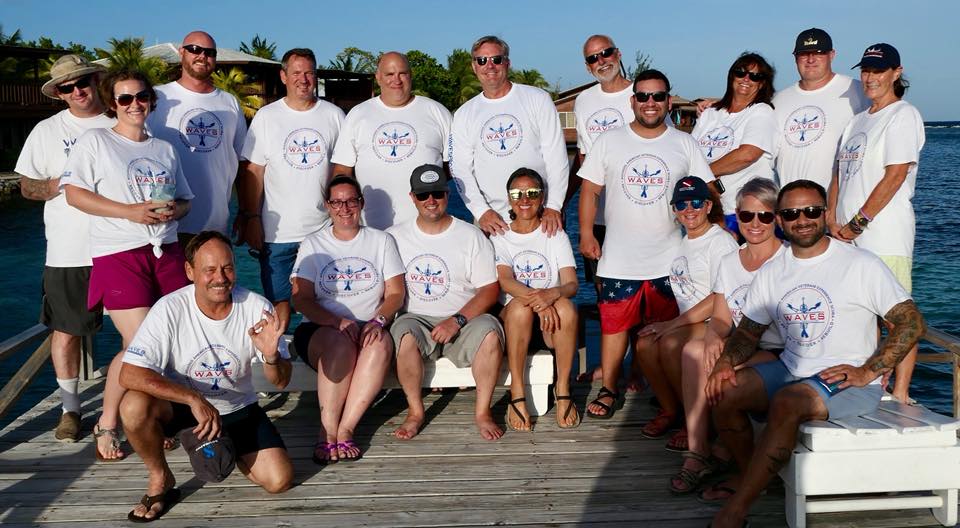 At the end of July our annual trip to Roatan Honduras was a great success! 10 veterans with their dive buddies attended this week long dive trip and experienced the beauty of Caribbean diving. WAVES subsidized the trip for veterans but each one paid about half of the cost themselves. We have a goal to be able to pay 100% and take a new group of divers every year for this great experience.
While there they learned new skills and achieved milestones. We issued 41 specialty certifications during the week including 7 Wreck Divers, 2 Peak Performance Buoyancy, 5 Night Divers, 8 Deep Divers, 6 Boat Divers, 7 Digital Underwater Photography, 5 Enriched Air, and one Underwater Navigation. In addition 8 divers qualified for and received their Master SCUBA Diver Certifications. All of this training helps build confidence and improves skill levels for a lifetime of diving. Five of these new Master SCUBA Divers will enter the next level of training for Dive Master.
Our founder and lead instructor Steve Rubin, completed crossover training with another dive certification agency. This gives us the ability to reduce costs and expands our course certification offerings. He will soon complete the Instructor Trainer course which will give him the ability to certify Dive Instructors from our group of veterans. Another huge step forward for sustaining the future of the organization.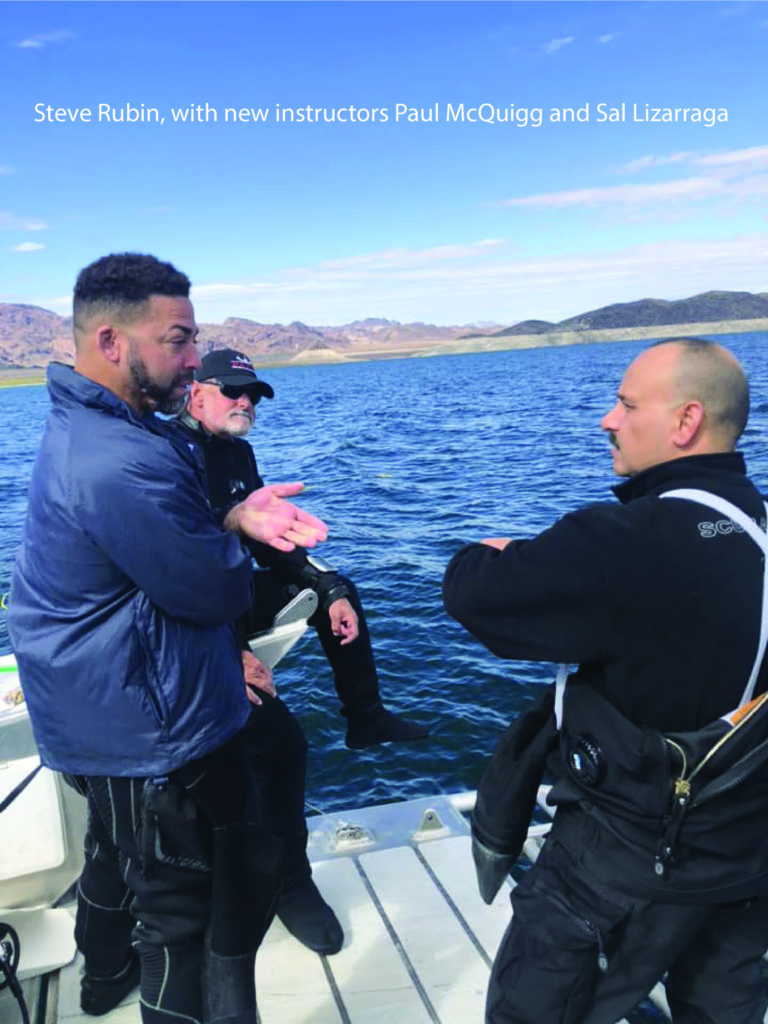 After having our biggest training quarter yet with over 70 unique participants our instructors are having difficulty meeting the demand. We enlisted the services of two new instructors who are both veterans.
They have been learning our way of doing things, by "interning" with classes. In the near future both new instructors will serve as lead instructor on their respective classes.
This will give some relief to our backlog of over 100 veterans waiting for a class and continue our plan of having "veterans training veterans".
Steve Rubin, Paul McQuigg and Sal Lizarraga discussing training procedures.
We have confirmed three new projects with the National Park Service, two at Lake Mead and one at the Dry Tortuga National Park in Florida. We have tentatively scheduled a second "mission" at the USS Arizona in Hawaii for December. In addition, we have had initial conversations with NOAA about an upcoming project and hope to finalize those details soon. We will have six new participants who have been trained in underwater mapping procedures for the next project.
Details and preparations were made for our upcoming fundraiser in October. In August and September we talked to many businesses in the local area and secured twice as many sponsors as last year. Preparing for the fundraiser, opening the new store and certifying new divers have occupied the majority of our time.The upcoming quarter will have a lot of community outreach opportunities. Our Volunteer group continues to grow with 82 active volunteers contributing nearly 200 hours during the quarter. They help with outreach, fundraisers and help in our store.