Wounded veterans experience therapeutic benefits of diving while helping Dry Tortugas National Park
KEY WEST, Fla. – Dry Tortugas National Park hosted volunteer divers from the Wounded American Veterans Experience Scuba (WAVES) Project who spent a week helping the coral reef ecosystem at the park and in return received therapy, healing and relief from their service-connected disabilities.
Seven veterans traveled to the remote Dry Tortugas archipelago, from Oct. 13-20 to repair important demarcation and reef mooring buoys within the park. The demarcation buoys outline the special protection zones for shark and coral research. Mooring buoys help prevent damage to the fragile coral reef by preventing anchors, ropes and chains from striking and damaging coral. All these buoys need continual maintenance.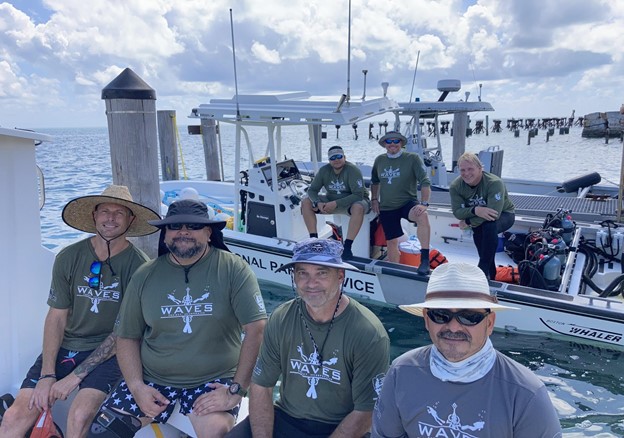 "I am thrilled to be a part of something so worthwhile and to be a conduit for positive change," said Park Manager Glenn Simpson, who dove alongside the veterans during the project.
This ongoing partnership between the National Park Service and WAVES is dedicated to enriching the lives of veterans and their families by providing scuba opportunities within some of the country's most beautiful, wild places. Experiencing the therapeutic benefits of water and diving with a group of like-minded people, gives veterans a mission that serves the public good while helping them find a sense of purpose and shared experience again.
"Scuba diving is our platform, we use diving and the therapeutic values of water to help veterans recover from service-connected disabilities," said Steve Rubin, founder of WAVES Project, a non-profit organization established to help American disabled veterans experience scuba diving while overcoming physical and psychological limitations.
Scuba diving can provide rehabilitative benefits to individuals with physical and/or psychological disabilities. The act of scuba diving requires continuous focus on breath and slow, deep breathing, similar to breathing techniques used in meditation. Divers can immediately experience reduced anxiety and lowered blood pressure. When paired with the sensation of "weightlessness," diving can create a form of underwater meditation with undeniable benefits.
"While diving, you escape all of the distractions found at the surface of the water," explained Sal Lizarraga, one of the veterans as he inspected his scuba gear on the deck of the park's vessel. "You're more focused on your breath and being mindful of your surroundings that you forget about your stress and anxiety."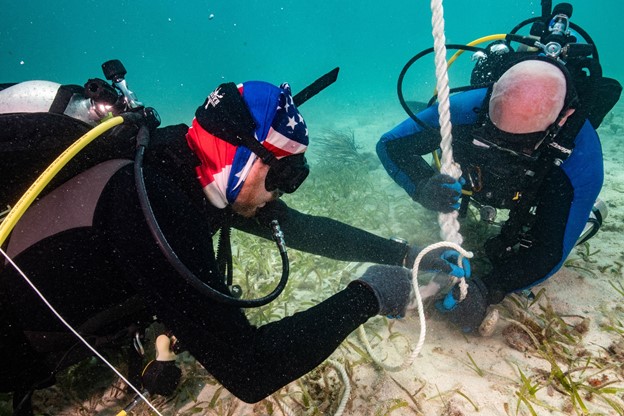 This is the second trip WAVES Project has made to Dry Tortugas, helping the park with similar work in July 2019. WAVES Project participants have partnered with other NPS sites including World War II Valor in the Pacific National Monument, Lake Mead National Recreation Area and also this year at Biscayne National Park with an all-female dive team.
The WAVES Project is a non-profit organization whose mission is to provide an opportunity for American veterans with service-connected disabilities and their families to experience scuba diving. Donate to help support these mission oriented projects.
Author credit: Allyson Gantt, NPS
To learn more about Dry Tortugas National Park, visit www.nps.gov/drto